11 Places Women Want To Be Touched
By David Strovny
While I'm certain that most guys (myself included) would like nothing more than to have their woman lying on a bed with legs spread eagle, leaving our favorite female body part exposed for whatever it is we feel like doing to manipulate said part, today's tip is not about her vagina.
Now before you start moaning and groaning, keep in mind that, just as you love it when your woman sometimes climbs on top of your back to give you a deep backrub, women also love it when you caress their bodies in areas besides the breasts and vagina... and butt.
So it's time for you to step away from the boobies and focus instead on parts of her body you have likely been ignoring of late. Chances are that once you do, you'll begin to delve into your sexual sessions with a lot more than just a hard-on.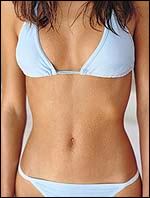 This, of course, is not to imply that women don't like being touched in the sexualized areas of their bodies, but once in a while, the time comes to try something different. And so you should.

1- Head
No, not yours... and not that one, either. Use the fingertips of your index and middle fingers to caress her temples. Then, use one hand to play with her hair before you use all of your fingertips to massage her head. Do so gently.
Tip: Rest her head on your lap while doing this to watch for her relaxed and appreciative reaction.
2- Neck
Whether you're using your hands or your mouth, most women love it when you move their hair away from the side of their neck to softly caress, kiss, lick, and lightly nibble.
Tip: Kiss and lick the area around her collarbone while you're in the vicinity.
3- Back
I can't tell you what it does for my woman when I lay her down on her side with her back facing me, and softly lick and kiss her back starting at the top and slowly make my way down.
Tip: When you start, try your best not to actually lick her skin but slowly lick all the baby hairs on her back while you wrap your arms around her waist. Chills will ensue...
4- Thighs
Whether she's naked or wearing that oh-so-sexy thong, spread her legs apart and spend a few minutes appreciating her inner and outer thighs with your hands and lips. Don't bite. And stay away from the vagina... for now.
Tip: Lick the area between her outer labia and then finish off her upper thigh with a strong tongue -- she'll love you for it.
5- Behind the knees
If she's lying on her back, raise one leg at a time, rest it along your body and make your way down to the back of her knee. Kiss and lightly lick the area and surrounding parts. If she's lying on her stomach, your efforts will be that much easier.
Tip: Don't bite or lick too hard; this area is sensitive to the touch as it isn't every day that someone licks, let alone caresses her in such an area.
6- Hands
Hold her hand, palm facing up, and use both thumbs to rub her palm gently while the rest of your fingers simultaneously rub the other side of her hand. Make your way down each finger until you've managed to rub her entire hand.
Tip: Put her middle finger in your mouth and suck on it gently, and then ask her to do the same... but not to your finger.
7- Wrists
Hold her hand, palm facing up, and run your fingertips across her wrist and forearm gently while you ask about her day. After a few minutes of caressing, use your lips, teeth and tongue to lick and gently bite the inside of her wrist.
Tip: While you're kissing her wrist, hold her hand against your face with your hand.
8- Ears
Make your way to her ear and whisper something like, "Tonight is your night," and then take her lobe into your mouth and let your wet lips slide off it. Then lick your way up to the top part of her ear and lightly nibble on it with your teeth.
Tip: Before you do any of this, use your fingers to slowly move her hair away from her ear; then breathe up her neck on your way to said destination.
9- Stomach
Hold on to the sides of her waist with both hands and inhale her scent when your nose gets close enough to her stomach. Then kiss her stomach from one end to the other, sporadically letting your tongue lick it at times.
Tip: Lick around her belly button and gently rub the tip of your nose in it.
10- Ankles
Whether you're making love or just getting started with foreplay, placing her ankles on your shoulder and rubbing them is a great way to turn her on. Caress each one with your hands and then kiss them from one side to the other.
Tip: Run a hand up and down her shin and calf while kissing her ankles. And again, at no time should you be using your teeth.
11- Feet
Whether you instill it into part of your lovemaking habits or simply want to help her relax after a rough day, rubbing a woman's feet will garner you points like you wouldn't believe. Put some massage oil or body cream on your hands, rub them together to warm them up and start by rubbing the middle of the soles of her feet. Slowly move up to her toes and then down to her heel.
Tip: Spend some time rubbing the sides of her feet and make sure you don't tickle her. And if her feet are clean and you're in the mood, suck on those pretty little toes (before the cream or oil).

Whether you're making love or simply want to turn her on beforehand so that she'll jump your bones, by focusing your attention on parts of her body other than her vagina, buttocks and breasts, you'll discover other areas that turn her on.
As well, this will give her an incentive to spend some time on parts of your body other than your penis and testicles... then again, you may be quite satisfied with that situation...
Until next time, enjoy your exploration.