Does Your Woman Disrespect You?
By Anthony Cape
You've met a great woman and as things start to heat up, everything seems to be going smoothly -- except for one little thing. At first, it was so minor that it wasn't worth mentioning, but now that you're dating exclusively, you realize that the "little thing" is getting bigger.
For every suggestion or comment you make, she shoots you down and appears to put herself above you. If this profile sounds at all familiar, don't fear -- there are ways to rectify the issue at hand without having to blow a gasket.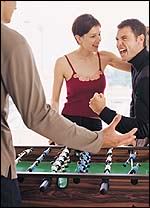 Respect is fundamental for a healthy relationship and if your lady friend is undermining your opinion or second-guessing you, it is obvious that some disrespect is being flung in your direction. Before going ape, however, take a step back, analyze the situation and assess what you can do to get her on your side. Take a look at the following situations for help.
Situation 1: Swift action

Problem: As you and your woman wait in line along with friends to see a movie, she suddenly voices her disgust regarding the khakis and sweater combo you're wearing... in front of everybody.
Solution: Don't wait until another outburst like this occurs -- take her aside before the previews start and be frank with her. Tell her that you won't let that kind of treatment slide again. Any woman of yours should never dis you in public like that. Being direct will shift the momentum to her side and make her realize your intolerance for any kind of abuse.
Watch out: While this approach can be effective, make sure not to blur the line between a normal relationship and one that dips the balance of power to your side too much. You want to have the upper hand sometimes, but for this to work, a two-way street of communication must be established.

Problem: Every time you suggest going to a restaurant or a new nightclub, she dismisses you. As this is a recurring type of behavior, it may be hard to restrain yourself from badgering her with questions on why she neglects to place any importance on your opinions.
Solution: Take a sensitive approach. Choose your words carefully so as not to insult her, but let her know that this is an issue. Sit down with her and address the situation like you would a business proposal at work. Lay out the incidences one by one where she seems to ignore your input, and be honest and sincere about how that cannot happen again.
Watch out: Remain open-minded and do not use an accusing tone, rather ask what she thinks needs to change in order to eliminate this problem. Remember, it's one thing for her to debate your opinion and quite another to disregard it completely, and frequently.

Problem: If you get home after a night of dinner and drinks with other couples and discover a piece of black pepper visibly lodged between your teeth, and she never said a word about it, you might want to observe her carefully the next time you need to blow your nose, your fly is open, or are having a bad hair day.
Solution: When some aspect of your person is unsightly, leave yourself open for her to hint that you should clean up your appearance before your friends notice. If she never says a word, then let her know that she can always discreetly let you know of the problem to keep you from looking foolish. As well, you can practice what you preach by letting her know when her skirt is tucked into her pantyhose.

Problem: You didn't take my aforementioned advice and nip it in the bud by addressing her lack of respect early on and are probably full to the brim with frustration every time she insults you. Or worse, you confronted her and she still belittles you in public, or even in private for that matter.
Solution: Give her a taste of her own medicine. Keep in mind that this is a last resort, which goes against the other advice provided. But if she publicly humiliates you, call her on it right then and there. Ask her why she insists on this type of behavior day in and day out.
Watch out: While this might provide immediate satisfaction, the impulse you just obeyed could come back to kick you in the butt later on. You now look like the attacker -- the bad guy. Only in extreme cases where a huge wake-up call is required will this plan work. In general, you should focus on making the situation about her action, not your reaction.

When something as important as respect is missing in a relationship, there are many ways to remedy the situation. From being a man of action to a cunning experimenter, you can get your woman to reveal what is really making her act this way.
Remember that it is not always blatant cases that will clue you into the level of her respect for you. Subtle comments and actions that may go unnoticed at first can often develop into a big deal quite quickly and may eventually lead you to blow up.
Moving beyond a bruised ego and realizing that this issue is more than just a case of a woman with a bad attitude is the first step to eliminating disrespect. Using humor and other devices to deflect her sharp comments when others are around will help in calming you down until you have a private moment with her.
When you confront your lady, remember that you should not start a blame game with her. Both sides should be working on a solution, since her lack of respect could be stemming from mistakes you've made along the way. As easy as it is to say that it's all her fault, there are no advantages to being narrow-minded.
Because respect is such an important part of any relationship, pouncing on the issue at the first hint of insolence can eliminate the issue early on, thus avoiding future arguments.
If you really want to make things work with this woman, then take the time to delve into her mind and find out why she fails to be on your side. Showing her that two people united are stronger than two divided will definitely serve to make your relationship and your future a better one.