Should You Date A Virgin?
By Lawrence Mitchell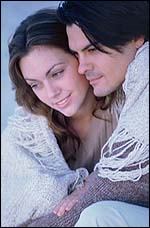 Men want it all in one woman. Think about it. We want our partner to be a sex fiend, a chef in the kitchen and a source of income. We want Jenna Jameson and Martha Stewart in one perfect package. She has to close the big corporate deal, come home and prepare a gourmet meal, and convey insatiable zeal in the bedroom.
Sounds like heaven? Perhaps. An impossible dream? Maybe. Why we agonize over what we can never have is a mystery. Men, we have to decide what we desire most in a woman. Is it her body, her mind or her merit as a life partner? Can we have it all?
I think a mix is possible but to expect your woman to cook like Julia Child and look like Julia Roberts is unrealistic. Plus a perfect mother and porn star to boot? Slow down. The point is that as men, we objectify women and pigeonhole them into a classic stereotype. No matter how educated or enlightened you claim to be, the fact is that you do it on instinct.
Society has cultivated us to think of women as a Venus, Mother, or Virgin. We want the whore and mother but many men still covet the virgin.

When we think virgin, we either recoil or go wild. We either think of pure, driven snow and an illicit sexual fantasy, or shrivel at the prospect of being her first at everything. Think about that before you embark with a virgin. The level of maintenance required is immense.
Sure, all relationships demand it but there is a confidence factor to consider with a woman who has yet to experience her first sexual encounter. She may not have any, for one. Or to be fair, she could be a woman of conviction, with a strong belief that one man alone, and a special man at that, should get an access pass to her temple.
If you accept the challenge, you had better be in for the long haul. Or else you may have a broken heart and a serious amount of damage control to contend with.
Not that all virgins are fragile and pristine. Far from it. The factors to consider are age and circumstance. They both have everything to do with whether you should step in and become her first or even date her. An obese thirty-something career woman virgin for example, is not on the same level as a naäve 18-year-old virgin with a strict background who has never dated before.
The one common factor is that I would advise you to stay away from both. Unless of course, you fall in love (the one exception to the no virgin rule) and have the patience and compassion to deal with the inevitable.

What's inevitable? Well, as I hinted at before, maintenance. Let me be specific. If you must date a virgin, keep in mind that she may be a virgin in more than one sense of the word. Forget sex for a moment. What about the art of the relationship argument? Can she deal with the turmoil of a fight or will she break down and lose it? How will you respond?
How about the concept of space and independence? You love to kick back at home or hang with your crew, but is she down? Does she understand or will she take it the wrong way? Think about that for a moment. Even if she has dated before and done "stuff," a relationship with sex in the mix is not the same.
While your attitude with regard to sex may be cavalier, she may not share that sentiment. Expect a virgin to view sex as sacred, intimate and personal. Sex is all three of course (if you think otherwise, find a woman with experience).
But men and women have a dissimilar view on the act, which you can magnify when she has not done it yet. As soon as you invade her space so to speak, her emotions will intensify. She will exact certain expectations on you, whether you know it or not.
She will become more sensitive. If she senses disrespect on your part, you may never be able to leave. The point is that the boyfriend of a virgin is part coach and part diplomat. If you have neither the tolerance for both, get out now while you still can.

I have a virgin success story that may or may not convince you to give it a shot. A very close friend of mine was wed last month at the age of 27. She was a virgin, which is rare in 2002 for a female of that age. She had gone through two serious relationships previous and had some experience but she had made the decision to remain a virgin out of respect for her family and faith.
Then she met the right person three years ago. They worked at the same firm and what began as passionate physical attraction (it can happen with a virgin as well), developed into love and commitment. My friend and her boyfriend knew that they would end up together but the time was not right.
Now the twist is that he was not a virgin. In fact, he broke off a serious relationship of six years, with sex in the mix, to be with her. His sacrifice is notable although to her credit, my friend is quite an extrovert, a flirty and fun girl, despite her virgin status. Which is why I cringe to group them all in together.
Because according to her fiancé, she knew better how to please him without sex than his ex did with sex. Still, the man had to wait over three years, until their recent honeymoon, to have sex again. Whenever I asked him throughout their engagement and before, whether he was resentful, his response was always in the negative.
His love was complete and his focus was on the future. She would be his wife one day, so what did it matter when they had sex? It was inevitable. And so it was. Their marriage was among the most beautiful I have seen and the next day, when I saw the happy groom, I could tell by the look on his face that the wait had been worth it. I could also tell that the bride was eager to go off on her honeymoon and get in a lot of practice time!

So if you want to date a virgin, be considerate of her choice and make sure that your intention is honorable. Show respect for her faith and family, if they are in fact primary in her decision.
Take it slow, do not pressure her and even if she does relent in a moment of weakness and decide to have sex, think long and hard about what it would represent for her and your relationship. Sex is fun but a loss of dignity and moral center is not.